Why Tempit®-E is the Best Product to Add to Your Temporization Procedures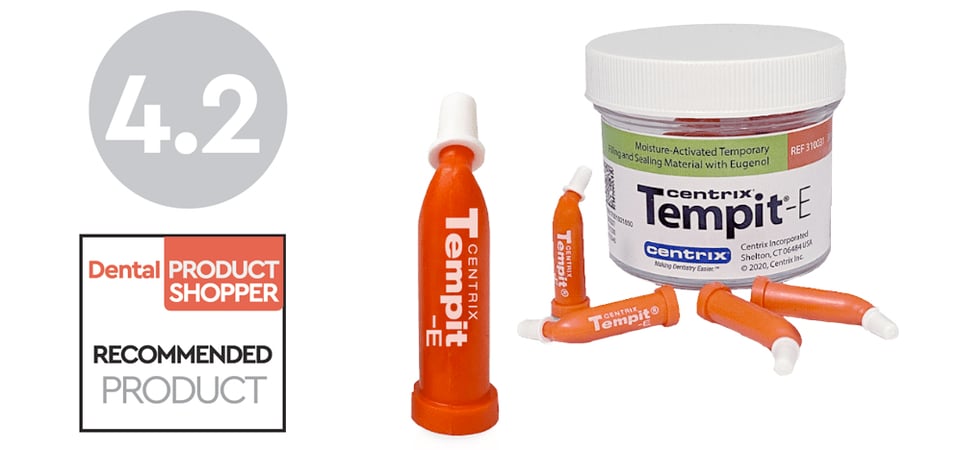 How has Temporary Filling and Sealing Changed in the Last 50 Years?
(That's a trick question, because it hasn't. Until now.)
On June 1, 2020, Centrix introduced Tempit-E, temporary filling & sealing material with eugenol. Tempit-E is pre-mixed so it eliminates the one thing you dislike about IRM and gives you back the one thing you so desperately need…time!
We knew the dental world was ready for a product like this and the response has been astounding! What we're hearing over and over from the dental community is "Why have I waited so long for a product like this?" and "This product just changed my life!"
Zinc Oxide Eugenol (ZOE), with its anti-inflammatory and antibacterial properties, was made available as an Intermediate Restorative Material (IRM) during the Vietnam War. Military doctors used it to seal teeth when patients presented with deep carious lesions but no pulpal exposure. Though there are many materials on the market for temporary filling use, IRM withstood the test of time and is still very commonly used as a temporary cement / filler in intermediate restorations.
Let's think about that for a minute. IRM was invented over 50 years ago!
A lot has changed in the dental world in the last 10 years, never mind the last 50 years. Why should you continue to rely on a product that hasn't evolved to keep up with you, your practice and the changing times we are all adapting to? Now, more than ever, you are dealing with cross-contamination issues, patient social distancing protocols, staff training, and many hours disinfecting your dental office.
Extra time is needed to comply with all the new requirements to keep your employees and patients safe. We know we can't turn back time, but we can certainly help you spend LESS time performing your intermediate restorations.
Enter Tempit-E, Temporary Filling and Sealing Material with Eugenol. Aka: the time saver!
In just seconds, Tempit-E is ready for use. Watch this video to see how it compares to mixing IRM. (Don't blink, or you will miss us setting up Tempit-E.)
How has Tempit-E made temporization better? Let's see…
READY IN SECONDS: It takes roughly 6 seconds to snap a Tempit-E tube into a C/R Composite Gun. No mixing, no mess.
INJECT STRAIGHT INTO THE PREP: Easier, no voids, complete fill.
SETS FAST: Tempit-E is moisture-activated and sets in five minutes.
EXCELLENT SEALING: Expands slightly when set to seal out microleakage and bacterial ingress.
SOOTHING EUGENOL: Its palliative eugenol formulation gives it a sedative quality which calms hypersensitive pulp.
ELIMINATES CROSS CONTAMINATION: Single-patient tubes provide a clean, safe material delivery.
REDUCES PULPAL INFLAMMATION: Superior treatment in cases of reversible pulpal inflammation.
HEALING EFFECTS: Anti-inflammatory and local anesthetic effects help facilitate pulpal healing.
MAIN USE: Used for temporary filling use, in place up to one year.
For a limited time, we are offering free Tempit-E product demonstrations that will show you what a game-changer this will be in your practice.
Learn more about the Tempit™ Family of products.